ABFonts RCD Mallorca 2012
is based on the font used on the jersey of Spanish La Liga football club, Real Club Deportivo Mallorca, for the 2012-2013 season. RCD Mallorca is outfitted by Macron. Azmie created and posted an image of his RCD Mallorca vector font on his website,
switchimageproject.com
. I like the numbers that I decided to do the font using Azmie's image as a source. There is likely some deviations from the real font used by RCD Mallorca and Azmie's vector font because the source image is just too small.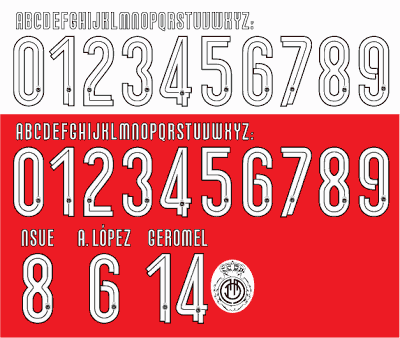 The alphabet used on the RCD Mallorca jerseys is in the lowercase. Another set of alphabet that follows the style of the numerals is in the uppercase, This second set was not based on anything and is just the RCD Mallorca jersey alphabet done in two lines similar to the numerals — how it would have been done if I designed the font. The font is best used in large point sizes starting at 84 pts.
The character set of
ABFonts RCD Mallorca 2012
shown in 100 pts:






FONT
DOWNLOAD

Open Type + True Type
http://abfonts.freehostia.com/rcdmallorca2012.htm